10 REASONS TO BUY A HOT TUB
September 15/2021
Many of us are already convinced of the benefits of owning and enjoying a hot tub, but for those who are still on the fence here are 10 great reasons to buy one.
Better Sleep
Insomnia or even just a rough sleep can ruin the next day. But if you take even just a 15-minute soak in a hot tub about an hour and a half or two hours before bed you raise your temperature and the rapid-cool down period afterwards relaxes you and aids in easing the body into a sound sleep.
Your Personal Oasis
With such a wide variety of hot tubs available, you can customize yours to be whatever you want. You choose the size (anywhere from 3 to 9 people), color, number and style of jets, LED lighting, controls, and can even add a stereo system. Whether you want your hot tub to be a romantic spot, or a party destination, you can design it so that it has all of the perfect features for your needs.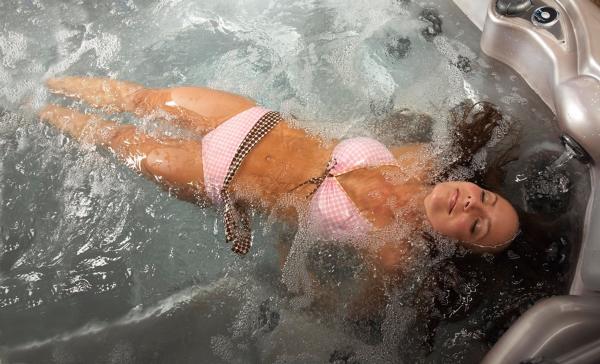 Family Gathering Place
Flip open the hot tub cover, start the jets and watch how everyone in the family tends to leave the TV room or computer station and head for a soak. Gather everyone without saying a word; if you lead them they will come! The perfect place to bring everyone together.
Detox
One of the bonuses of being in a hot tub is that it mimics some of the benefits of exercise without having to put strain on your heart. After a few minutes in the hot water of a spa, you'll begin to sweat; sweating is a great way to remove toxins from your body and it really helps your skin improve. If you want to go a step further, you can add Epsom salt to hot water which helps you relax and draws toxins out of the body. It also helps with your circulation.
Avoid Health Club Hassles
Forget about driving to a health club for a soothing soak when you have a safe, clean hot tub in your own backyard. Leave that smelly gym bag in the closet and head out to the crystal clean waters of your very own hot tub.
Strengthen Your Immune System
Being in an environment where the temperature is raised (like a sauna or a hot tub) helps to stimulate your body's natural production of white blood cells. An abundance of these cells aids in your body's natural ability to fight off infections, viruses, etc. You'll get sick less often if you're frequenting your hot tub on a regular basis.
Year-Round Use
Winter, spring, summer or fall hot tubs are ready to use regardless of the weather. Actually, a hot tub often allows you to be outside and enjoy things like a starry night, freshly fallen snow, changing leaves, and colorful sunsets when you might otherwise not be inclined or able to do so.
Additional Health Benefits
Soaking in a hot tub can help increase circulation and blood flow, ease pain, and relax muscles. The natural buoyancy that occurs when we're in a hot tub also reduces strain and pressure on our joints and muscles and gives them a small break from all of the hard work they do day and night. And last, but not least, the best part: the jets target muscle groups to massage and help soothe sore muscles.
Morning Refresher
Start the day with a refreshing soak while listening to the birds chirp and watching the sunrise. With a cup of coffee in hand and swirling water to jet start your day, you'll be on top of the world.
Relaxing Environment
Whether you're in the hot tub with friends or in solitude, enjoying an adult beverage or hydrating with water, soaking up the sun or taking in the night sky, a hot tub will help ease you into a state of relaxation. You can read a book, mediate, escape your electronic devices, and enjoy some quiet down time. Between the heat and the soothing bubbles, even a short soak will help you alleviate stress and enhance your sense of well-being.
If you're ready to take the plunge and get yourself into a new hot tub, contact our sales team or visit our showroom today!
---
---